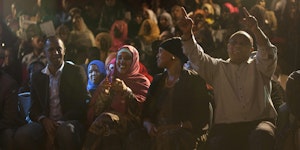 Kayd Somali Arts and Culture
Friday, 23 October 2015 from 18:00 to 22:00 (BST)
London, United Kingdom [Get your tickets online!]
Somali Week festival Launch, Chaired by Mohamed Adow, Aljazeera
Kayd Somali Arts and Culture, in collaboration with partners is proud to present Somali Week Festival (SWF) 2015. This year's festival will run from Friday 23 October to Sunday 1 November at Oxford House, Derbyshire Street, London, E2 6HG and various other venues.
Somali Week Festival is an integral part of Black History Month and offers the best of Somali arts and culture, both old and new. The festival offers a mix of events including poetry, literature, panel discussions, documentary film screenings and music. Through these different artistic forms, Somali Week Festival has explored a variety of themes in past years and has become a widely recognised and anticipated annual event in the UK.
Theme of the Year: Space
This year's festival is centred on the theme of 'space'. It's about experimenting with innovative and emerging spaces for Somali arts. It's an opportunity to reflect on the spaces we have inhabited and carved out for the arts over the years, and the spaces that are being eroded or are currently under threat, while looking forward to developing, expanding and enriching new spaces. Festival participants will be invited to explore what it means to inhabit, create, move between and beyond different artistic spaces, be they physical or psychological, public or private. Read the rest of this entry »