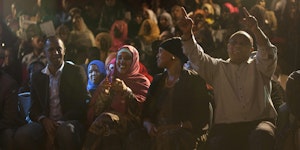 Kayd Somali Arts and Culture
Friday, 23 October 2015 from 18:00 to 22:00 (BST)
London, United Kingdom [Get your tickets online!]
Somali Week festival Launch, Chaired by Mohamed Adow, Aljazeera
The launch of Somali Week Festival brings you the best of Somali arts and culture and a taste of what's to come in this exciting week-long festival. Somali Week Festival 2015 gets into gear at its well-established venue in Bethnal Green.
This year's festival theme is SPACE – the space Somali arts and culture have carved out in the UK over the years, the spaces that are being eroded, and the new spaces being expanded and enriched.